What is control screening and what are control screening machines used for?
A control screening machine helps you to separate and screen out foreign bodies such as screws, plastic residues and other particles from your target product with a protective screening or control screening. The term protective screening machine is also used analogously.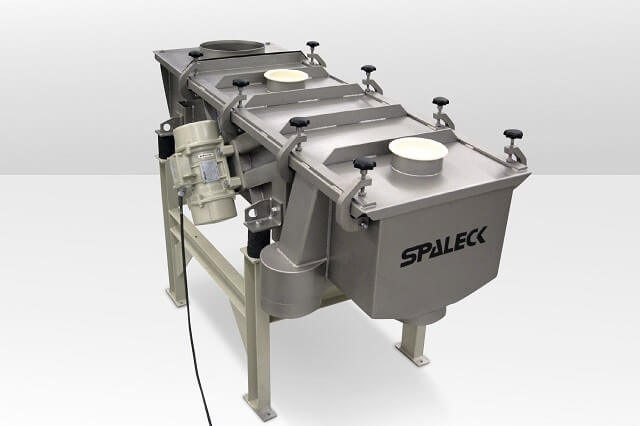 How do control and protective screening machines work?
Operating principle of a protective screening
With our protective screening machine, the screening technique is crucial to ensure consistent product quality. Thus, the mesh size of the screening panels is adapted to your requirements in order to guarantee precise protective screening or control screening. For example, we adapt the screening properties and dynamics of the control screening machine to your products by means of the vibration parameters or the angle of inclination of the control screen.
It is important for you and for us that the control screening machine is a reliable production step in your manufacturing process. As a manufacturer of screening machines for the pharmaceutical, chemical, pet food and food industries, we offer you comprehensive process knowledge and experience as to which protective screen with which configuration and screening technology you require. Our central goal is to provide you with a control screening machine that works reliably and minimises your downtime in production. Therefore, we tailor our protective screening machine exactly to the requirements of your industry. In addition, we make sure to use durable and robust materials in our production in order to reduce the downtime of your protective screen to a minimum. This also includes adapting the control screening machine to your production volume to guarantee a smooth production flow. In addition, we offer you control screening machines that can be easily operated and maintained by your employees
.
Benefits of control & protective screening machines
Pure products with the aid of protective screening
Without reliable protective screening, it is unfortunately possible that foreign bodies contained in the bulk material, such as screws, production residues or similar, will significantly disrupt the downstream work steps. In addition, the quality of the end product is significantly reduced and endangered as a result. To ensure consistently high quality, the control screening machine can be used at different points in the production process. The aim is to remove foreign bodies from the desired pure product.Today, a smooth production process is more important than ever. Complaints and notices of defects due to quality deviations or contaminated material are not only a problem economically, but also damage the image of your company. In order to raise quality to a consistently high level, our control and protection sieve, which is individually adapted to your requirements, will help you.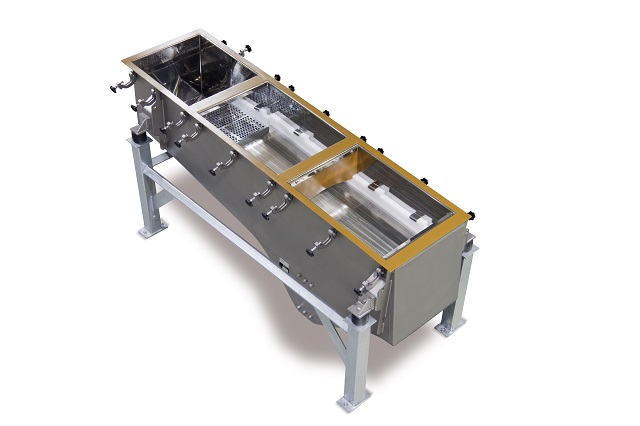 Areas of application for control screening machines
Where are control and protective screens used?
Control screening machines can be used for any industry or sector that has to deal with the challenges of impurities in the product. The control screening machine helps you, for example, to clean your bulk material or granulate from annoying impurities, particles and other dirt. For example, control screening can be carried out before packaging to guarantee your customers consistently high quality. In addition, control screening and protective screening can also take place before the production process (for example, for bulk goods) or in the production process itself. Especially in manufacturing, the cleanliness of workpieces is becoming increasingly important, as impurities can hinder or even damage the production process.