SPALECK ComfortLINE – the new benchmark for professional conveying, screening and dosing
We develop our conveying and separation technology for and together with our customers. Whether it is our conveying and separating technology for recycling, or our stainless steel machines according to GMP standard, two things in particular count: Outstanding screening performance and maximum user comfort.
We offer you the SPALECK ComfortLINE product line in the field of conveying and separation technology for the user industries pharmaceuticals, chemicals, plastics, food and pet food. These are all machines with maximum operating and cleaning comfort, with first-class screeening results and ideal for highly demanding products such as pharmaceuticals, plastic granules, chemicals and powders as well as all kinds of (animal) food.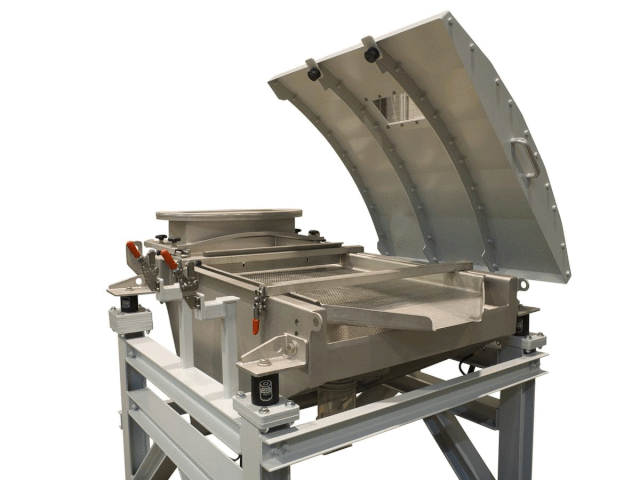 Quick-cleaning screening machines and conveyors
Why the comfortable cleaning options are so important
In food production, it is obvious that screening machines for food must meet the highest hygienic standards. However, maximum purity of the granulates is also important for granulate screening machines or overlength separators, for example. Therefore, it is important that the screening machines and conveyors are manufactured according to GMP standards. They are free of dead zones and provide easy and comprehensive access to all parts of the machine. The surfaces actively prevent caking and contamination. Thus, the conveying or separating machine can be cleaned quickly and easily thanks to its SPALECK ComfortLINE design. Inspections and screen lining changes can also be carried out very quickly and, in contrast to standard products, cause only minimal downtimes. In the adjacent video you can see an example of easy-to-clean screening machines of the SPALECK ComfortLINE stainless steel.
SPALECK ComfortLINE – THE solution for pharmaceuticals, chemicals, plastics, food and pet food
Efficient screening and conveying performance for an optimum end product
In the pharmaceutical, chemical, plastics, food and pet food industries, process reliability and product quality are extremely important factors. That is why we have tailored the stainless steel screening machines and stainless steel conveyors of our SPALECK ComfortLINE specifically to the very high demands of the industry. When developing each individual screening machine and conveyor trough, we guarantee maximum ease of use. Because this contributes significantly to the excellent end product thanks to simple cleaning options, quick screening panel changes, individually adjustable machine performance parameters and an efficient screening or conveying capacity.