Supplier for robotic welding
For our customers we produce welding assemblies with the welding robot in optimal welding quality – of course MADE IN GERMANY.
As your No. 1 supplier for fully automatic welding, we manufacture for you around the clock 24/7.
We offer you many additional services
such as the production of laser parts
the deburring
and logistics of your workpieces.
Request your personal quotation today – and take advantage of our expert consulting services for all aspects of automatic welding using welding robots.
FORWARD THINKING. SINCE 1869.
What is robot welding?
Video: Automatic welding briefly explained
Robot welding is the automatic welding with the help of a welding robot. The welding robot takes over the production, i.e. the welding of welding components or entire welding assemblies.
High quality requirements also for robot welding
Manufacturing know-how from the professional
The welding process in robotic welding is also subject to the relevant standards. These must be complied with in robot welding. In order to achieve the best possible welding result, the welding equipment and sensor technology of the welding robot is put together by our experienced design mechanics and welding engineers depending on the component requirements.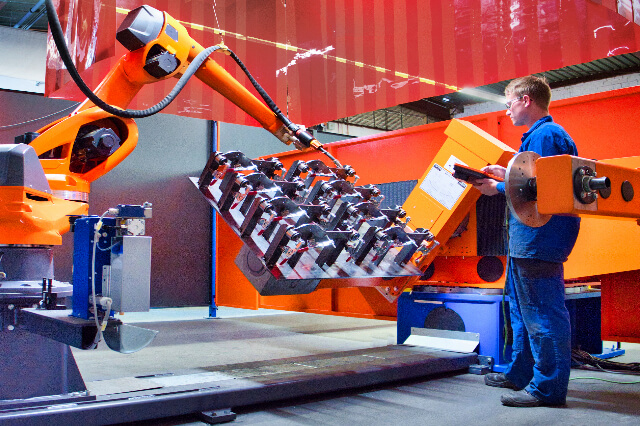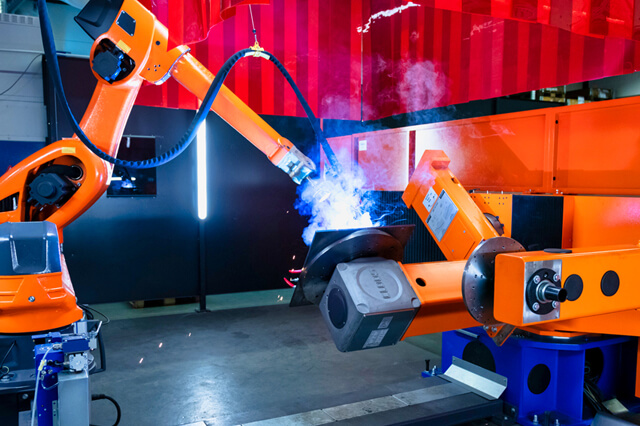 Efficient component welding with welding robots
Our experts weld your workpiece
Robotic welding is also referred to as automatic welding. In this process, the welding process is planned and implemented by a skilled worker. The employee teaches the robot how and what to weld. This is done as part of a component programming process. The operator of the welding robot ensures that the welding assembly is welded in a technically excellent and process-optimized manner.
Welding robot with changing system
High efficiency in robotic welding
One of the advantages of robotic welding is the high degree of automation of the welding process. While the welding robot is welding the component, the next workpiece can already be prepared. The finished welded part is then replaced by the part still to be welded using the robot's changing system.